Mechanisce constitut
Wiels, Av. Van Volxemlaan, 1190, Bruxelles

This is post of a common genre in this blog category: a public linguistic text correction, carried out with bic or pencil. Most of the time this is a one-directional intervention, a native speaker jumps to the rescue of the correct grammar of his / her mother tongue. Not often do I encounter multi-lingual interventions on one sheet of paper.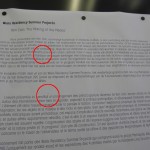 And a big sheet of paper it is: the inroduction text to the exhibition of Ben Cain, "the making of the means" in center for contemporary art Wiels, which took place in July / august 2009.